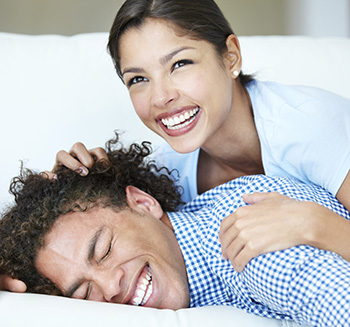 Snoring is the first sign of a potential problem.
Not everyone who snores has sleep apnea. If the snoring is mild or intermittent, it may not be significant. However, chronic snoring can indicate a more serious disorder.
Obstructive Sleep Apnea (OSA) is the result of closed airways near the back of the throat. During the night, muscles relax and gravity takes its toll. Passages that are clear and effective during the day become constricted or closed altogether after falling asleep.
In those who suffer from OSA, the diaphragm and lungs are trying to pull in enough air through these significantly diminished spaces. It's tough work, and often results in gasping, choking, or heavy vibration of the passage walls. These are what cause chronic snoring. This forces the patient awake so that unobstructed breathing can resume.
These moments are small and usually go unnoticed. The patient falls back to sleep almost immediately, leaving no memory of the many interruptions.
Unfortunately, they are still interruptions, and can occur as many as hundreds of times a night. With so many pauses, the body is unable to complete sleep cycles. What seems like a full night's rest becomes a series of brief catnaps, resulting in another tell-tale sign of OSA: excessive daytime exhaustion.
If you or someone you know suffers from severe exhaustion, snores chronically, or gasps and chokes during sleep, they may have OSA.
Dangers of Sleep Apnea
Years of poor sleep and low oxygen can cause more serious problems, including:
High blood pressure
Stroke
Weight gain
Impotency
Heartburn
Depression
Headaches
Fortunately, the solution is easy. All you need is an open airway while you sleep.
Sleep Easy CNY can set you up with a CPAP machine or create a custom dental appliance. Either of these will allow you to breathe freely and sleep deeply.
How Do I Know?
Do I have OSA, or am I just a loud sleeper? This can be difficult to tell, on your own. The best way to be sure is to contact us here at Sleep Easy CNY.
We can run a series of tests to determine what your needs are. And the best part? The initial consultation is completely free.